School Life
---
Aims & Ethos
The Sylvia Young Theatre School seeks to create a happy working environment where students can enjoy learning, staff can enjoy teaching and students can achieve their potential academically, vocationally, socially, morally and creatively.

Aims
To provide a broad, balanced and challenging academic and vocational curriculum with high standards of achievement
To develop and support the talents of those who wish to have a performance career as well as encouraging students to consider other careers within the media or to follow an academic pathway
To ensure students have a grounded approach to any current and future professional work or opportunities
To develop confidence
To inspire creativity
To develop communication skills
To both encourage debate and the ability to question, and to develop an open and enquiring mind in an atmosphere of mutual respect and appreciation
To fully realise students' academic, vocational and personal achievements by focusing on individual potential
To ensure regular and effective assessment of progress in both vocational and academic subjects
To provide high quality teaching and learning in academic subjects and to offer our students the best possible vocational training from experienced teachers and working professionals in a disciplined but encouraging atmosphere
To provide the high standard of academic education and qualifications necessary as a basis for 'A' level study and beyond should students choose to pursue an academic route prior to, or instead of, a performance or media career
To provide curricular and extracurricular opportunities for students to develop as individuals and as a community
To develop and strengthen partnerships with parents
To manage the development of the school to ensure the highest standards are achieved in all areas
To strive continually to improve.
Ethos
In partnership with parents, the Sylvia Young Theatre School aims to provide opportunities for its students that enable them to play an active and positive role as members of the school and the wider community. Students have access to and experience of the curriculum regardless of race, class, gender or religious belief. The school promotes a sense of self-esteem, responsibility and tolerance. It values and challenges the individual so that they may achieve their highest levels of attainment.
The Sylvia Young Theatre School places great emphasis on high academic standards and excellence in the performing arts. Our aim is to develop the whole person as well as providing a unique opportunity for students with potential in the performing arts to train and to perfect their skills. Expectations are high.
The Sylvia Young Theatre School provides a supportive atmosphere based on self-discipline, mutual respect, cooperation and understanding. Students are encouraged to take responsibility both for their own learning and the environment in which they live.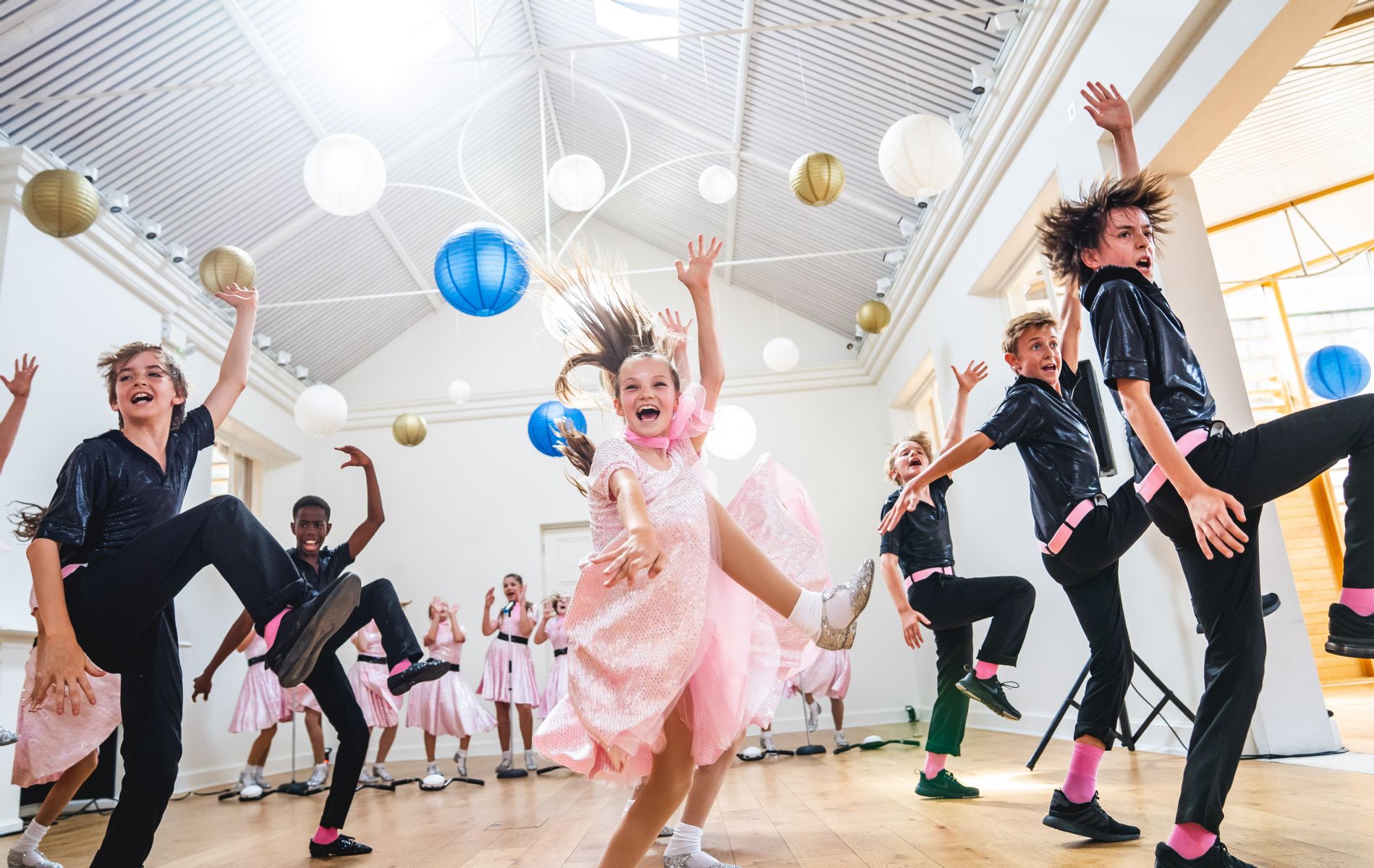 The School Week
On Mondays, Tuesdays and Wednesdays our students follow their academic programme. This consists of a broad range of academic subjects, more details of which can be found in the academic curriculum section of our website. The aim is for all students to sit 8 or 9 GCSE examinations at the end of year 11. The School day commences at 8.45am and finishes at 4.00pm for years 6, 7 & 8. In years 9, 10 & 11, some lessons may continue until 5pm on one or more days depending on what subjects the students have opted for.
This is reflected in the division of our school week. Condensing a regular five day academic week into a three day academic week and two days of vocational training.
Applicants need to achieve a good standard academically and be able to cope with a 3 day academic week. This arrangement may not suit all applicants.
On Thursdays and Fridays students follow their vocational programme, receiving training in the performing arts (drama, dance and singing) whilst developing their individual performance skills. School day commences at 8.45am-3.45pm on Thursday and 8.45am-4.00pm pm Friday.
Facilities
Our school site houses a number of excellent facilities for our students academic and vocational classes.
12 Academic classrooms, including 2 Art rooms, 2 Science labs, 2 I.T Suites.
11 Vocational studios, recording studio.
Changing and shower facilities, outside courtyard garden, cafeteria.
Uniform
Our academic uniform and vocational tracksuit is supplied by Price & Buckland. Academic uniform is worn Monday-Wednesday.. Students wear their vocational uniform tracksuit, dance wear on Thursday and Friday and can be ordered from Gandolfi .
Full details are given on acceptance of applicants school place.
Term Dates 2023-2024
AUTUMN TERM 2023
Monday 11th September - Induction day for new students only
Tuesday 12th September–Friday 20th October
Half term Monday 23rd October–Friday 27th October
Monday 30th October - Inset Day
Tuesday 31st October - Wednesday 20th December

SPRING TERM 2024
Monday 8th January–Friday 9th February
Half term Monday 12th February–Friday 16th February
Monday 19th February - Inset Day - staff only
Tuesday 20th February–Thursday 28th March

SUMMER TERM 2024
Monday 15th April–Friday 24th May
May Bank Holiday - Monday 6th May
Half Term Monday 27th May–Friday 31st May
Monday 3rd June - Wednesday 17th July
Term Dates 2024-2025

AUTUMN TERM 2024
AUTUMN TERM PART 1 - Monday 9th September - Friday 25th October
Wednesday 4th September - Induction day for new students only
Monday 9th September - All students return to school
Half term break - Monday 28th October - Friday 1st November
AUTUMN TERM PART 2 - Monday 4th November - Tuesday 17th December
School Holiday - Wednesday 18th December - Monday 6th January 2025

SPRING TERM 2025
SPRING TERM PART 1 - Tuesday 7th January - Friday 14th February
Wednesday 12th February - Inset Day- staff only
Half term break - Monday 17th February - Friday 21st February
SPRING TERM PART 2 - Monday 24th February - Friday 4th April
School Holiday - Monday 7th April - Monday 21st April

SUMMER TERM 2025
​​SUMMER TERM PART 1 - Tuesday 22nd April - Friday 23rd May
May Bank Holiday - Monday 5th May
Half term break - Monday 26th May - Friday 30th May
SUMMER TERM PART 2 - Monday 2nd June - Wednesday 16th July